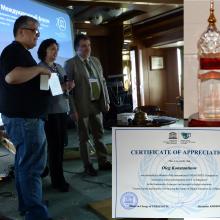 Oleg Konstantinov was a representaive of our UNESCO chair on the V International Conference UNESCO Chairs Partnership on ICTs use in Education 1 – 5 June, 2015 in St.-Petersburg, Russian Federationon board of the cruise-ship Mikhail Sholokhov within theXVI International Forum Modern information society formation - problems, perspectives, innovation approaches. IITE UNESCO expresses a highest appreciation to Cisco Ltd.for the support of the conference.
Oleg is the winner of the International UNECO IITE Competition Innovative University Practices in ICT in Education in the framework of a project on foresight in higher education Access, Equity and Quality: Envisioning the Future of Higher Education in a Digital Age. 
The prise is based on the paper: Konstantinov, O., E. Kovatcheva, R. Nikolov (2015) Cultural Heritage Education - The Role of ICT In: Modern Information Society Formation: Problems, Perspectives, Innovation Approaches - Proceedings of International Forum, 1-5 June 2015, Saint-Petersburg. ISBN: 978-5-8088-1002-0.